Birkenstock
Global player with an eye for details
Since the 1970s, Birkenstock is considered to be a global player and brings an authentic german quality footwear to the United States and China. Here, the traditional company keeps a close eye on the customer. Because the production is still carried out mainly in the home country. This closeness to the customer makes the company so successful.
Those values still apply today. In 1774, Birkenstock laid the foundation for its success. The shoes need to be convinient and elegant. A simple concept, which celebrates its popularity until today.
Setting Priorities
Since a number of decades, Birkenstocks core competence is the specially-made sole. It is the eponym of the term "footbed". Matching quality materials create a wearing comfort that is unique.
Anyone who has ever made experience with Birkenstock, knows the longevity of the classic modern design. Since the insole is of such great matter, the company chooses high quality materials only. These are carefully selected, from  sustainable sources, to guarantee the quality of the shoe at all times.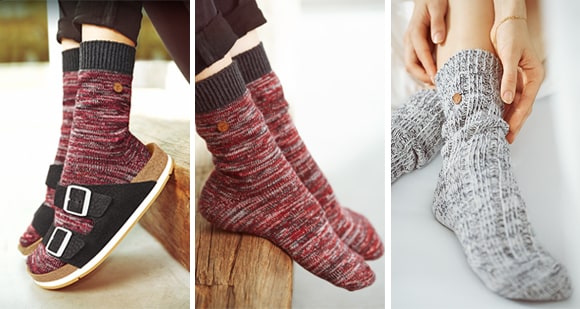 Ongoing History
It's 1774 – In the church archives of the city Langen-Bergheim in Hesse, one can find the entry of Johann Adam Birkenstock under the sate of a shoemaker. This is the beginning of Birkenstocks story.
The love for shoes, which flows through the history of the family for several generations, will be continued by the master shoemaker Konrad Birkenstock in 1896. He develops and then sells the first flexible footbed insoles. Only 30 years later the production must be adapted to produce greater quantities. From now on the already famous "Blue Footbed" manufactured in day and night shifts in a factory in Hesse.
A couple years later the Chief Operating Officer Carl Birkenstock will hold more and more successful lectures and seminars on the topic of healthy feet. He even recieves medical Support to optimize his work. Especially in the period from the 1950s to the early 21st century, the family increases its influence and its value by giving various textbooks on "healthy feet". Seminars, as well as Training courses become more and more popular.
In 1990, the company launched its products to the global market. The modernization of the production process requires planning in new dimensions. The familiy Business becomes a Group Company and has Access to new markets and a much bigger influence in 2013. As Birkenstock entered the licensing business in 2014, the main attention is paid to the four new theme worlds: Healthy work environment, running and healthy lifestyle, healthy living and sleeping, as well as healthy feet.
Enjoy the unique and classic shoes from Birkenstock!